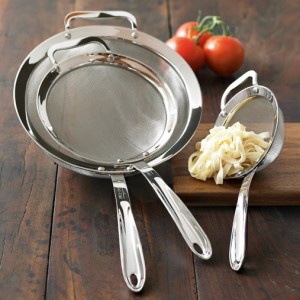 Featuring heavy-duty stainless-steel construction, these strainers will perform long and hard in the busiest kitchens. Designed to position securely over bowls and pots, the strainers are fitted with ergonomically shaped All-Clad handles to make them comfortable to lift and hold.
Set includes three strainers in graduated sizes.
Crafted by All-Clad, a premier maker of professional-quality kitchenware.
Made of 18/10 stainless steel for a lifetime of service.
Fine mesh makes them handy for draining pasta or vegetables, straining stocks and sauces, sifting dry ingredients, dusting desserts with powdered sugar and more.
All-Clad's signature handles ensure a secure grip.
Dishwasher safe.