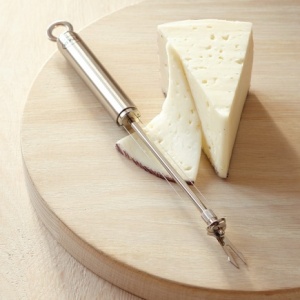 Cut thin, uniform slices of cheese perfect for serving on top of crackers. Two sturdy wires run along the sides of this slicer, so that cheeses can be sliced in two different thicknesses. This design allows you to bear down on hard or chilled cheeses for easier slicing.
Made of durable 18/10 stainless steel.
Sharp wires easily slice through the hardest cheeses.
Blade gap produces uniform slices of cheese.
Choice of two different thicknesses.
Pronged tip for lifting and serving cheese.
Dishwasher safe.