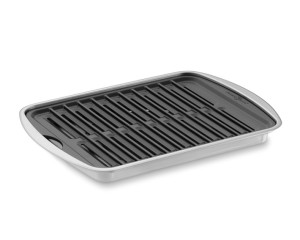 Get back to kitchen basics with this classic porcelain-enameled steel broiler pan. It combines a top grill with a base that can be used separately as a baking dish. Broil foods on the slatted grill—fatty drippings will collect in the base below.
Classic broiler pan is perfect for grilling your favorite foods in the oven—from meat, poultry and seafood to fresh veggies.
Heavy-duty steel pan has a durable, stick-resistant porcelain-enameled finish.
The grill's slatted design allows for easy draining of fats and oils during broiling.
Extra-deep base can be used on its own as a baking dish for desserts and casseroles.
Broiler pan is is a replacement for original pan in older ovens with broiler on bottom, but it can also be used in modern ovens with broiler burner located on top.
Made in the USA to exact original range manufacturer specifications.